Dave Poe Memorial Tree Planting
Dave Poe passed away on January 17, 2017. He was 91 years old.
In 1953, Dave was offered a job as an arborist at Bartlett Tree Experts in Bala Cynwyd, PA. He and his family moved to the Philadelphia area eventually settling in Newtown Square where they raised their family of four daughters. Dave worked at Bartlett for the rest of his working life, becoming an expert on all aspects of tree knowledge and care. He became somewhat known in the area as a local expert and was occasionally invited to give opinions on television and once in a court case.
He was an early member of the International Society of Arboriculture holding positions of treasurer and chapter president. He remained an active member for decades where he had some close arborist friends.
In keeping with Penn-Del Chapter tradition, a memorial tree was planted in his honor at the Penn-Del ISA Memorial Grove in Fairmount Park, Philadelphia.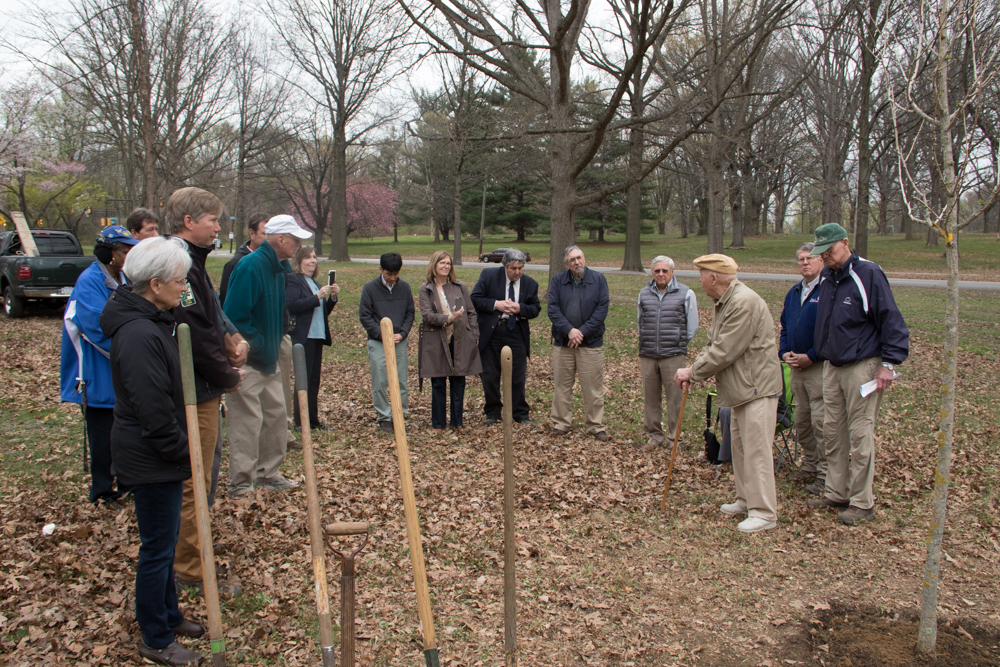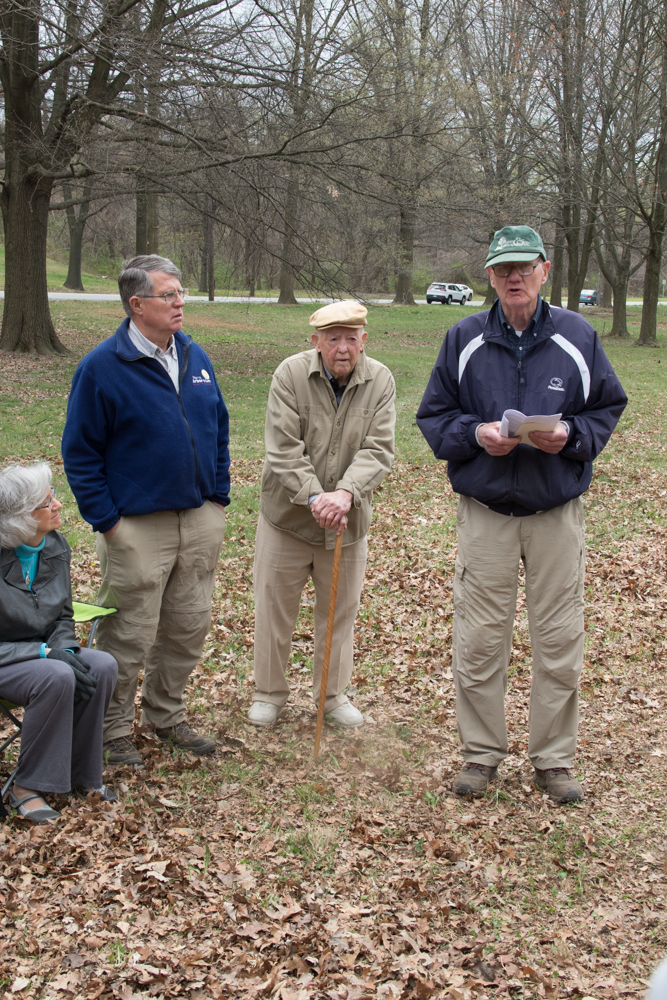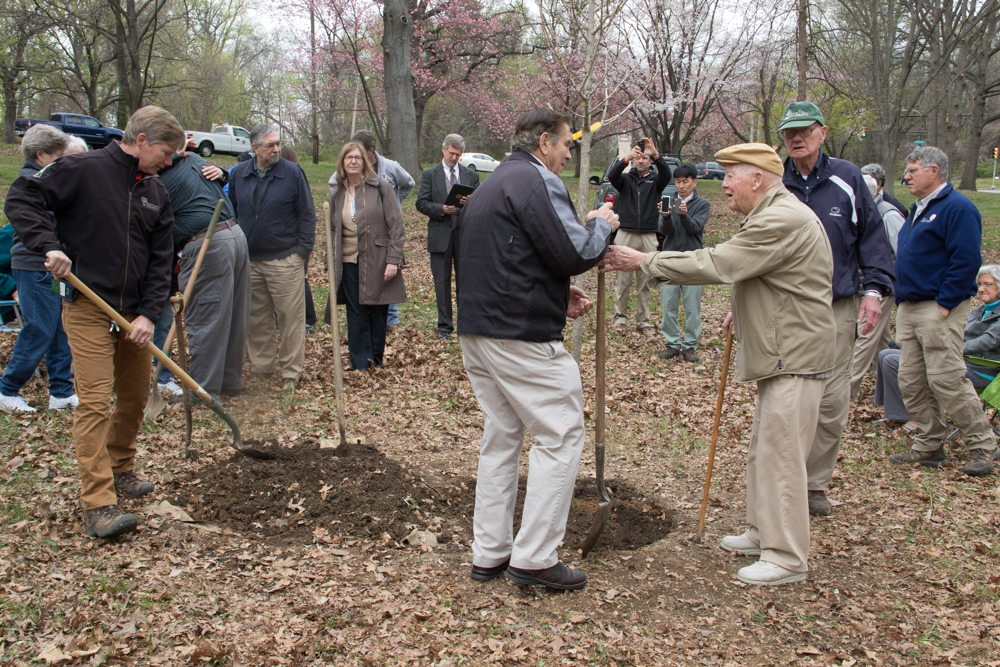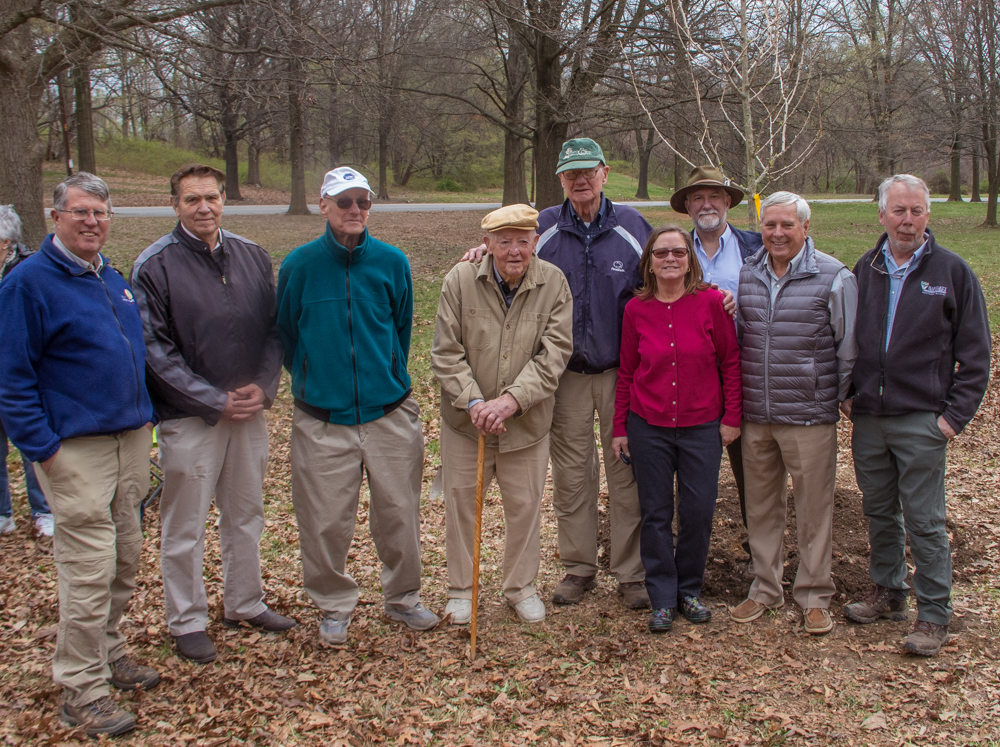 All photos courtesy of Russ Carlson.
Tree Planting In Memory of Dave Poe(by Fran Ward)
(by Fran Ward)
On April 15, 2017, the Penn-Del Chapter planted a Gingko tree for Dave Poe at the Chapter Grove in Fairmount Park, Philadelphia.
Dave was an original member of the Chapter as well as the Chapter President in 1965 and again in 1978. He was the Chapter representative to the ISA and served for 15 years as an officer of the Chapter in various functions and many years as a volunteer.
In attendance at the Tree planting were Past Presidents: Bob McConnell, Al Cherry and his wife, Beth, Joe Bones, Russ Carlson, Bill Johnston and his wife, Becky, Bill Graham and his wife, Dorothea, Sarah Hoster, Bill Mifflin, John Ward and his wife, Fran, and President John Smithmeyer. Dave's two daughters and stepson were present along with people from Fairmount Park and other members of the chapter.
Dave's wife, Evelyn, passed away in 2016. She was a remarkable artist and we were fortunate that she used her talent to help make the Program Book for our Chapter Dinners held at Longwood Gardens to raise funds towards the Horace Thayer Scholarship for Arboriculture as elegant as they were.
Dave gave support to many young people and urged them to get active in the chapter. He will be missed for his warm personality, wit, charm and devotion to the Chapter.
Lunch was served at Mc Shea's restaurant in Narberth.